Jon A. Krosnick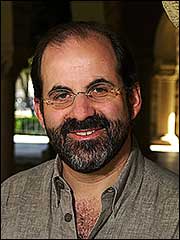 Senior adviser to Langer Research Associates, Jon Krosnick is the Frederic O. Glover professor in humanities and social sciences, professor of communication, professor of political science, professor of psychology and senior fellow at the Woods Institute for the Environment at Stanford University, where he also directs the Political Psychology Research Group and the Summer Institute in Political Psychology.
A social psychologist, Krosnick is widely recognized for his groundbreaking research in survey research methods; the psychology of political behavior; and attitude formation, change and effects. He has taught survey methodology at universities, corporations and government agencies across the world, provides expert testimony in court and has consulted on survey research issues for organizations including Pfizer Pharmaceuticals, the National Institutes of Health, Home Box Office, NASA, the U.S. Bureau of the Census, the Internal Revenue Service, the National Oceanic and Atmospheric Administration, the Environmental Protection Agency, the U.S. Bureau of Labor Statistics, the U.S. Government Accountability Office, the Centers for Disease Control and Prevention, the National Cancer Institute and Google.
Krosnick is the author of seven books and more than 190 articles and chapters. Among numerous honors his scholarship has been recognized with the Lifetime Achievement Award of the American Association for Public Opinion Research (2014) and his election as a fellow by the American Academy of Arts and Sciences (2009) and the American Association for the Advancement of Science (2010). From 2005 through 2010 he served as co-Principal Investigator of the American National Election Studies.
When he's not enjoying time with his wife, Stanford Professor Catherine Heaney, and their daughter, Alexandra, Krosnick plays drums with the contemporary jazz group Charged Particles.
Integrity in Research®