International Research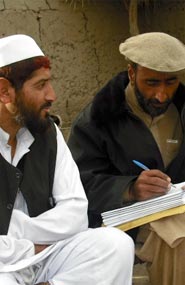 We've spent years developing close relationships with first-quality international field work providers, putting our clients in a position to commission rigorous, representative public opinion research virtually anywhere in the world, conflict zones included.
Recent work includes a detailed national assessment of civil society organizations in Afghanistan, conducted for the international development nonprofit Counterpart International; an ongoing, five-year assessment of Counterpart's community-level Leadership Development Program in Bangladesh; and an evaluation study of Counterpart's large-scale Support to the Electoral Process (STEP) civic engagement program in Afghanistan, all USAID-funded projects.
We've also produced an in-depth study of tax morale for the Afghan Revenue Department, consulted on a federally sponsored survey in Yemen, completed successive surveys of attitudes toward the police in Afghanistan for the United Nations Development Programme (UNDP) and from 2004-2010 produced groundbreaking analyses of 12 national polls in Afghanistan and Iraq, drawing together a consortium of international media partners in a unique series of research projects that attracted global recognition.
Reported in ABC News' "Where Things Stand" series, these Afghanistan and Iraq polls received two news Emmy awards (the first and only to cite public opinion polls), seven Emmy nominations and the 2010 Policy Impact Award of the American Association for Public Opinion Research (AAPOR), which cited the work as "a stellar example of high-impact public opinion polling at its finest." The results have been cited in a presidential address, in Congressional and parliamentary testimony and debate, by a wide range of high-level policymakers and in numerous military, think-tank and academic publications.
Conflict-area research is complex and challenging. We've coordinated closely with our colleagues at D3 Systems and its affiliates KA Research in Istanbul, ACSOR in Kabul and others to ensure the highest possible level of data quality. Sampling, field work and data processing are carried out under our close oversight, with projects guided by our in-depth literature reviews, optimal questionnaire design, rigorous data analysis and clear, acute presentation of findings. We've presented on our results and methodology alike at venues including the ESOMAR World Congress, the Center for Strategic and International Studies in Washington and AAPOR national conferences.
Our results in Afghanistan and Iraq have shown cycles of hope, despair and recovery, underscoring the mosaic of needs and concerns of these populations and tracking the impact of security and development efforts there. As this work has proceeded, quality research has grown to become recognized as an integral element of international efforts in conflict zones, and of monitoring and evaluation of international development programs more broadly.
Click here for our baseline report on the Bangladesh Leadership Development Program, released in November 2013; here for our impact evaluation of the Counterpart STEP program, released in December 2012; here for our analysis of an extensive survey for the UNDP on views of the police in Afghanistan, released in January 2012 (or here for the January 2011 report); here for our April 2012 report on the latest "Afghan Futures" study by ACSOR/D3 Systems (previous report here) and here for our last Afghanistan survey for ABC News, the BBC, ARD German TV and The Washington Post in December 2010.
Elevating Information into Intelligence®